讲座 题 目:TOWARDS MORE SUSTAINABLE ENVIRONMENT AND SMARTER CITIES:THE ADDED VALUE OF MEMS, LAB-ON-CHIP AND PHOTONICS
  主 讲 人 :Tarik Bourouina;Professor of ESIEE Paris, Université Paris-Est, FRANCE
  讲座 时 间:2017年6月13日(星期二) 14:00
  讲座 地 点:研发大厦第二会议室
  内容 简 介:In this presentation, we elaborate on Microsystems and Nanoengineering for the study of different facets of Urban Environment and Civil Engineering. Illustrations will be given of co-integrating nanomaterials (Black Silicon, Zinc-oxide nanowires, Carbon Nanotubes) with MEMS and microfluidics, leading to novel functional devices applied to drinking water, air quality, and other fluidics natural resources, including fundamental study of construction materials. Illustration will be also given of merging optical MEMS with microfluidics technologies, leading to optofluidic devices, with increased capabilities, raising in the same time new questions on the related science.
  主讲人介 绍:
Tarik Bourouina holds M.Sc. in Physics, M.Eng. in Optoelectronics, Ph.D. in MEMS (1991), and HDR (2000) from Université Paris-Sud, Orsay. His entire career was devoted to the field of MEMS and Lab-On-Chip. He had several contributions in optical MEMS, among which the smallest MEMS-based FTIR Optical Spectrometer, Neospectra, jointly developed with Si-Ware-Systems, awarded the Prism award on photonics innovation in 2014.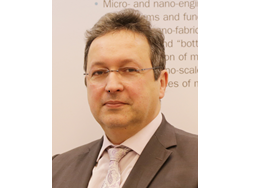 Professor Tarik BOUROUINA is now a Fellow of Chinese Academy of Sciences, visiting scientist at the Changchun Institute of Optics, Fine Mechanics and Physics (CIOMP), during the period from April 2017 to March 2018.
  国际合作处